Use Android ad-freeAdguard for Android is a remarkable web filter that protects you from annoying advertising, malicious and phishing websites, online tracking and much more. Adguard handles all types of internet ads, speeds up page load, saves bandwidth and increases your device protection against possible threats.
We use a unique technology that allows filtering the traffic on your device without ROOT privileges. This means that it can Filtering speed does not depend on the work of a VPN server, as it is embedded right in your device.
Why Adguard?— Adguard is able to block ALL kinds of ads, not only in browsers but also in games and apps!
— With the help of Firewall, Adguard can manage apps access to the Internet, as well as their filtering.
— This app is really easy-to-use, the interface is intuitive: one button to start protection.
— Protection from malware and phishing. Adguard won't let you become a victim of fraud.
— Adguard provides the best filtering quality on Android, there has been no app with such a high.
— The app speeds up the load of web pages. The pages are ad-free and opened faster.
— Protection of your personal data. Adguard won't let anyone track you in the web.
— Adguard really makes the Internet more clean, comfortable and safe for the user. See for yourself!
How does Adguard protection work?Adguard filters your browser's traffic by blocking requests to phishing and malicious websites and removing intrusive browser advertising.
Adguard can use two modes of traffic filtering.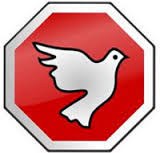 Adguard for Android
— Local VPN mode.
— Local HTTP proxy mode.
Local VPN mode
If you are using this mode, Adguard does not need ROOT privileges to carry out filtering. At the same time, a VPN-server is located on your device, so that there is no need to pass your traffic through a remote server in order to filter it.
Local HTTP proxy mode
In this mode Adguard launches a local HTTP proxy server on your device. This mode is recommended, if you use a rooted device.
Otherwise, manual adjustment of an HTTP proxy will be needed to use this mode, the filtering in mobile networks (Edge/3G/4G) will also be impossible.
More infoWe are always open to communication. Any user can leave the feedback on Adguard for Android on our Forum.
You can submit a bug or request a new feature at our profile on GitHub.
We always welcome new beta testers. If you would love to take part in improvement of Adguard — we are waiting for you on our beta tester section.
Engage in active discussion of Android version on XDA.developers forum